HVAC companies provide an essential service to your local community, but did you realize SEO for HVAC Contractors is essential for your business to thrive?
This article will discuss the hidden potential of HVAC SEO and provide you with proven SEO strategies to unleash your website's performance.
Whether you're new to SEO or looking to enhance your existing strategy, follow these HVAC SEO strategies to outrank your competitors and become the leading HVAC contractor in your area!
HVAC Search Engine Optimization: Explained in Simple Terms
When someone searches for "HVAC contractor near me," where does your business appear on the search engine results page (SERP)?
Note that the internet is the go-to place for 97% of consumers looking for local services, and 93% of online experiences start with a search engine. Moreover, a study from Search Engine Journal reveals that 25% of web users click on one of the first three entries on SERP.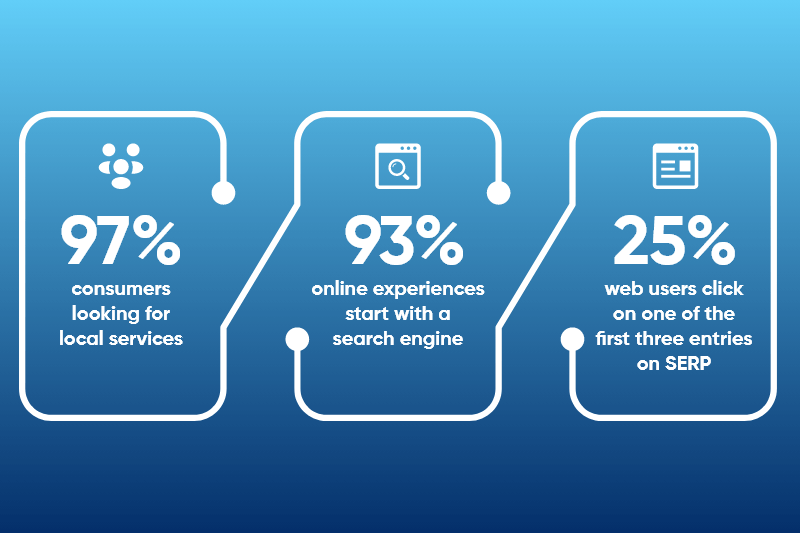 Based on the statistics, maximizing your HVAC business's online visibility has never been more critical to inbound lead generation. HVAC SEO (Search Engine Optimization) is the process of optimizing your website to improve its ranking and visibility on search engines like Google, Yahoo, or other search engines.
A successful SEO campaign will place your site among the top results, providing you with a scalable source of inbound leads.
Hidden Potential of HVAC SEO: Benefits You Never Knew Existed
According to Smart Insights, 58.4% of consumers use the internet to purchase a product or service. Hence, the competition for online visibility is fierce, but those who invest in SEO can reap the rewards.
Improving your website or working with a conversion driven SEO agency enables you to reap the following benefits:
Experience Impressive ROI
By optimizing your website's technical elements, such as keyword density, metadata, and mobile-friendliness, expect to have an average return of $2.75 for every $1 spent.
To further increase your ROI, complement your HVAC SEO marketing strategy with other digital marketing strategies, including videos, blogs, articles, email content, podcasts, infographics, and op-eds.
Doing so allows you to easily reach potential clients at various stages of the buying cycle.
Unlock the Power of Customer Insights
Google Analytics is a valuable tool as it provides valuable data about your target audience's online behavior, including preferred browsing times, search terms, and primary device used to access your website.
With this information, you can make informed decisions on optimizing your website and enhancing your customers' online experience.
To make the most of Google Analytics, consider the following:
Track key metrics:

Website traffic, bounce rate, and conversion rate are essential metrics that help you measure your website's performance and identify areas for improvement.

Segment your audience:

Categorizing your audience into different groups based on their behavior and demographics ensures your website is tailored to your target audiences' specific needs.

Monitor behavior flow:

Use the "

behavior flow report

" to see how users are navigating through your website, which pages are performing well, and where drop-off is happening.

Use custom dimensions and metrics:

Create custom dimensions and metrics to track specific information necessary to your business, such as the number of leads generated from a particular landing page.

Create custom reports:

Create custom reports to quickly access the information you need and keep track of key metrics over time.
Generate Higher-Quality Leads
High-quality leads are crucial for the success of any business, and this is especially true for HVAC companies.
By focusing on attracting the right type of leads, you can:
Improve your conversion rate and close more deals.

Save time and resources by attracting better-qualified prospects.

Strengthen your brand image and establish your business as a leader in the HVAC industry.

Build lasting relationships with customers and increase customer loyalty.
Boost Your Business By Building Customer Trust
By building a strong relationship with your customers, you can rest assured that your business will succeed for the long haul. So, follow these tips to build trust and credibility with potential customers:
Highlight customer testimonials:

Display customer reviews and testimonials prominently on your website.

Use clear and concise messaging:

Your website's content should accurately represent your HVAC services, prices, and policies to avoid confusion.

Enhance website security:

Implement secure browsing and payment processing options, such as SSL encryption, to protect customer information and build trust.

Optimize your website's load time:

Slow website speeds can drive potential customers away.

Improve website navigation:

A well-structured website with easy-to-use navigation can help potential customers find the information they need.
To assess how well your website is doing, run it through our free website performance report.
Skyrocket Your Business with These Proven HVAC SEO Strategies
Follow these expert-approved SEO tips take your HVAC business to the next level:
Research HVAC SEO Keywords: A Proven SEO Strategy
Thorough keyword research can identify the keywords that best align with your HVAC business goals and target audience. This information can then be used in your website and content optimization efforts, helping you reach more potential customers and grow your business.
There are two primary types of keywords:
Short-Tail Keywords:

Broad and generic, such as "HVAC repair." They have a high search volume but are also highly competitive.

Long-Tail Keywords:

Specific and targeted, such as "affordable HVAC repair services near me." They have a lower search volume but are less competitive and can drive more qualified leads to your website.
All keywords can be broken down further into categories:
Informational
Used by people who are looking for information on a specific topic. For example, "how does an HVAC system work?" These keywords are useful for attracting customers in the awareness or consideration stage of the buying process.
Transactional
Local Keywords:

Phrases that include a location, such as "HVAC repair in Philadelphia" They are essential for HVAC businesses that serve specific geographical areas.

Product-Specific Keywords:

Product-specific keywords focus on specific products or services you offer, such as "air conditioning installation." They are ideal for targeting customers in the research or buying phase of the purchasing process.
Navigational
These keywords are ideal for targeting customers who already know about your business and are looking for your website or contact information. For example, "Elevated Audience HVAC SEO services."
Commercial
Ideal for targeting customers in the decision stage of the

buying journey

. For example, "buy HVAC system online."
Google My Business and Google Maps: Dominate Local Search
Google My Business (GMB) and Google Maps are powerful tools for HVAC businesses looking to dominate local search. By creating and optimizing your GMB profile, you can improve your search engine ranking, attract more customers, and grow your business.
When customers search for HVAC services in their area, they are presented with a local pack, which includes the top three local businesses that meet their search criteria. By appearing in the Local Pack, your visibility and credibility as a local HVAC contractor increases, leading to more leads and sales.
Optimizing your and consistently updating it with relevant information can improve your local SEO, attracting more customers. Follow these steps to create a GMB profile, making it easier for prospects to find your local business:
Go to the

Google My Business website

and sign in or create a Google account if you don't have one.

Enter the name of your business and its physical address. Google will then verify the information and check if a profile already exists.

If a profile already exists, you can request ownership by clicking on "Claim this business." If not, you can create a new profile by clicking on "Add your business."

Fill out the profile with accurate information about your business, including your hours of operation, services offered, and photos.

Verify your business by choosing a verification method, either by phone or postcard, to ensure that you are authorized to make changes to the profile.

Once the verification process is complete, your profile will be published, and you can start updating as necessary.
E-E-A-T Mastery: Acquire More Leads and Sales
Google indicated in the December 2022 major algorithm update that this is a ranking factor.
Emphasizing these four key factors (E-E-A-T) in your website content shows your target audience that your business is a credible and trustworthy source of information, products, and services.
Experience: This refers to your business's experience level in the HVAC industry, including the time you have been operating and your track record of success.
Expertise: Involves showcasing your knowledge and skills in your field, such as through certifications, awards, and industry recognition.
Authoritativeness: Refers to your business's standing and reputation within your industry, such as through positive customer reviews and partnerships with other leading companies.
Trustworthiness: Encompasses your business's reputation for honesty, reliability, and ethical business practices, which can be strengthened through clear and transparent business practices, secure websites, and privacy policies.
Is your slow website costing you sales?
On-Page Optimization: The Secret to Boosting Your Search Engine Rankings
Following these essential elements of on-page optimization will help improve your website's visibility and ranking on search engines, ultimately driving more traffic and leads to your business:
Meta Description:

Provide a brief description of the page's content to help search engines understand a page's topic. The description will also appear as the page title and description in SERPs.

Header tags (H1, H2, H3, etc.):

Header tags help break up the content of a page and provide structure to the text. H1 tags are typically used for the main headline of a page, while H2 and H3 tags are used for subheadings. A page should only ever contain a single H1 but can include multiple H2, H3, etc.

Content:

Search engines favor websites with high-quality, relevant, and unique content. This includes using keywords naturally and strategically and ensuring that the content is well-written and free of grammar and spelling errors.

URL structure:

URLs should be descriptive, concise, easy to read, and include relevant keywords.

Image optimization:

Optimizing images for search engines involves compressing the file size, adding descriptive alt text, and using relevant keywords in the file name.
Mobile Optimization: Reach More Customers
In today's digital age, mobile devices have become the primary tool for consumers to browse and search the web. In fact, as of January 2023, 60.9% of all website traffic originates from people using mobile devices, making mobile optimization a crucial aspect of your HVAC business' online presence.
Employ these elements in your HVAC website, so it is more accessible and easy to navigate on smartphones and tablets:
Responsive design:

A responsive website adjusts its layout and content to fit different screen sizes, providing a seamless experience for mobile users.

Mobile-friendly content:

Optimize images, videos, and other multimedia content for fast loading times and easy viewing on mobile devices.

Easy navigation:

Make sure your menu, buttons, and links are large enough to tap with a finger and easy to access on a smaller screen.

Accessible information:

Ensure that critical information, such as contact information, business hours, and services offered, is readily available to mobile users.
Research Your Competitors
The competitive landscape of any industry is constantly changing, and as a business owner, it's essential to stay ahead of the curve. One effective way to do this is by closely monitoring your competitors.
By analyzing what your competitors are doing, you can gain these valuable advantages that can help you improve your HVAC business and stand out from the crowd:
Stay ahead of the competition:

Monitoring your competitors regularly allows you to identify and adopt best practices and keep up with industry trends.

Increased awareness of market opportunities:

Analyzing your competitors can help you identify market opportunities, such as untapped customer segments, that you can capitalize on to grow your HVAC business.

Better website optimization:

By studying your competitors' websites, you can identify areas for improvement and optimize your site for better search engine rankings and customer engagement.

Improved customer satisfaction:

By keeping an eye on your competitors, you'll have a better idea of your customer's expectations and needs, allowing you to provide better customer experiences and increase customer satisfaction.
FAQs
How Long Does it Take for HVAC Companies to Rank on Google?
On average, it can take anywhere from 3-6 months for an HVAC company to see significant improvement in their search engine rankings, although it's not uncommon for it to take longer.
Factors that can affect the time it takes to rank on Google include:
The level of competition in your local market.

The quality of your website and its content.

The history of your domain.

The strength of your backlink profile.
How Much Capital Do I Need?
Depending on the level of competition in your local market, the complexity of your website, and the services included in your campaign, expect to pay anywhere from $1,000 to $10,000 per month for comprehensive SEO services from a reputable agency.
What Should You Look for in an HVAC SEO Company?
A proven track record of delivering results for HVAC businesses like yours.

An SEO company that uses ethical, white-hat SEO strategies that are in line with Google's best practices. 

Transparent and upfront about the services they offer and the results they deliver.

Committed to your success and is willing to work with you to achieve your business goals.
HVAC SEO: The Key to Unlocking More Leads and Sales
As you can see, investing in a well-crafted HVAC SEO strategy can boost your online visibility, attract more leads, and drive sales.
At Elevated Audience, we understand the unique needs and challenges faced by HVAC businesses, and we work closely with you to create a customized plan that delivers the results you need.
Don't settle for mediocrity. Contact us now so we can help you skyrocket your HVAC business to new heights!