Using these junk removal marketing strategies, we've helped junk removal businesses generate over $70,000 per month from inbound leads.
Top 10 Junk Removal Marketing Strategies
Taking action is the key to successful marketing. Pick 1 of the 10 strategies below and start with it this week.
1. Invest in a professional website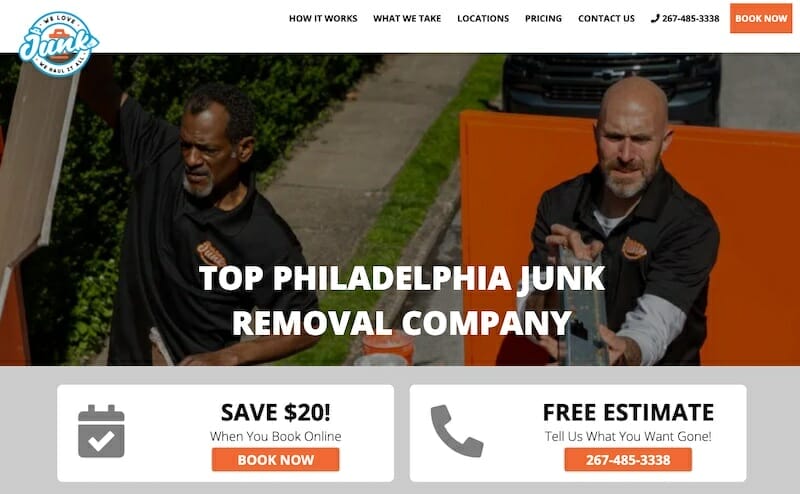 You may be thinking; this article is written by a web design agency – of course, you'd say that!
Yes – we may be biased.
Studies show that a customer will leave your website if they don't like the look. And they will make that decision in about 50 milliseconds!
That same study showed that 57% of internet users wouldn't recommend you if they don't like your website.
It's like shopping at the mall; would you walk into a store that was just thrown together?
More importantly, a professional junk removal website increases the perceived value of your service. Maybe you offer the best prices in your area, maybe your the most expensive. Either way, you want your customers to feel like your services are worth the value.
If you're going to invest in junk removal marketing, invest in your website first.
2. Junk Removal SEO: Increase your organic search visibility
SEO (Search Engine Optimization) is the practice of growing your website's organic visibility on search engines, AKA ranking at the top of page 1.
Before investing in junk removal SEO or any other digital marketing strategy, you must make sure your website is designed to convert. That includes being mobile-responsive (over 60% of our junk removal client's traffic is from mobile devices), easy to navigate, optimizing for page load speed, and having clear call to actions.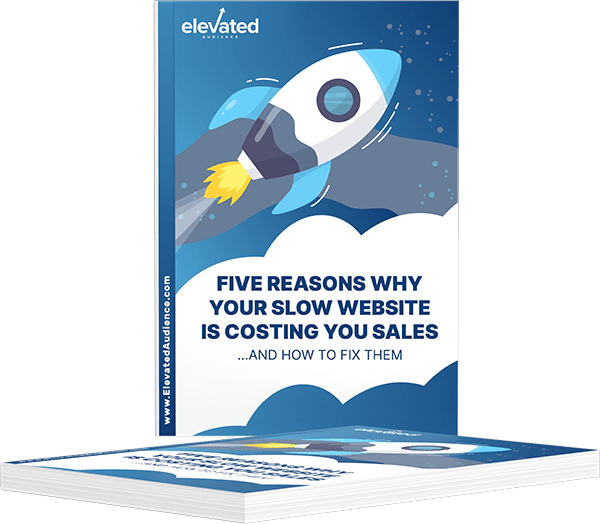 Calls to action are buttons like "Call now" or "Book Online." These should stay out from the rest of the page content and appear multiple times on pages with longer content.
Check out our client, WE LOVE JUNK, in Philadelphia for a great example of an optimized website with clear calls to action.
Most junk removal businesses will utilize a local SEO campaign. Unlike traditional SEO, local SEO campaigns mainly focus on geo-targeted keywords. Keywords such as "[insert local town] junk removal" or "[insert local town] garage cleanouts" are common in local campaigns.
If you haven't evaluated your current website, there is no better time than now! Consult with one of our SEO experts or try our free website performance tool to get actionable opportunities you can implement today.
Local SEO tips to boost your traffic
Make sure only one page is targeting a specific keyword. Having 2 or more pages targeting, for example, "Charlotte junk removal" is called keyword cannibalization and your pages end up competing against each other.
Optimize your website for mobile and page load speed
Properly size images and use modern compressions techniques.
Test your website's mobile-friendliness and page load speed regularly.
Set up a sitemap and submit it to Google Search Console
Most WordPress websites include a sitemap out of the box.
Expand your content and make sure it's unique.
Have at least 500 words per page.
Don't just copy and waste your location pages and change the name of the town. Try to come up with unique content to talk about on each page.
Local SEO also includes optimizing your Google My Business profile for maximum visibility, which takes us to our next section …
3. Maximize your Google My Business Potential
Similar to a social media profile, your GMB (Google My Business) profile is the online representation of your junk removal business on Google. You have seen these thousands of times whenever you complete a search either on google.com or in Google Maps.
GMB rankings use a completely different but still similar algorithm to google search. Here are some ways you can maximize your GMB exposure:
Optimize your profile
Fill out the profile with every detail you can.
Include all of your junk removal services under the Services menu.
Add as many unique photos as you have (don't use stock images!)
Make sure your service hours are correct
If you have a physical location, get it verified ASAP
Include a unique description of your business with a goal of 750 words
Test different primary categories and see what your competition is doing
Schedule posts
Google wouldn't include the option to post Offers, What's New, or COVID updates if it didn't want you to use it. Nothing in the documentation says they reward businesses who do or penalize those who don't, but you have nothing to lose.
One GMB post per week is all you need. If you're already posting on social media, repurpose an existing post and tweak the wording.
Launching a new service? Make a post about it!
Ask for reviews as often as possible
There is no question here … reviews are a ranking factor. Set a goal to reach as many reviews as the person ranking first for "junk removal near me" and then keep going. Once you're on top, the competitors will want to take their title back.
More important than reviews being a ranking factor is that they provide social proof and people trust them. Reviews are free advertising for your junk removal business.
4. Junk Removal Ads [PPC Advertising]
Google Ads, Google Adwords, PPC (Pay-Per-Click) Advertising are often used synonymously in the marketing world.
Pay-Per-Click ads mean just that. You pay for the clicks leading to a page on your website. Whether the visitor stays for 3 seconds or 3 hours or convert into a lead or not, you still paid for that click.
That said, Google Ads is still one of the most valuable junk removal marketing tools.
Why?
Because a properly configured Google Ads campaign will target transactional keywords with a clear intent to buy.
Here are a few junk removal business Google Ads configuration strategies we've learned from generating thousands of leads for our clients:
Confirm your Google Analytics account is properly configured and synced to Google Ads so your conversion data is accurate
Set negative keywords from the beginning.
Some areas of the U.S. "trash pick up" and "junk removal" have the same meaning. In other areas, "trash pick up" might mean local trash company. You don't want to pay for clicks from people looking for their local trash collection schedule.
Use a target CPA (Cost per acquisition) bid strategy.
Monitor your campaign closely and optimize at least once per week. You don't want to leave it sit for weeks and realize you've been paying $15/click for "local trash pick up".
Separate your junk removal services into separate ad groups
Google Ads is probably the top paid advertising service for lead generation so if your monthly marketing budget is limited. Start here.
From our experience, Google Ads clicks range from $2.50 – $10 and the average lead is about $30 – $50, however, this is all dependant on your service area.
5. Social Media Ads on Facebook and Instagram
Facebook and Instagram advertising seems glamorous. Many business owners think it's the best because there are so many users.
Yes, billions of users but … no intent to buy!
Understanding intent to buy
People visit social media to look at photos of their friend's vacations, their cousin's new baby, an old college friend's wedding or take silly surveys about what kind of potato they are.
There is no intent to buy.
Now, that doesn't mean social media ads can't be profitable. They can but after you've exhausted your SEO and Google Adwords potential.
Here's why … the most powerful part about social media marketing is retargeting ads. To benefit from retargeting ads you need a minimum of 3,000 unique visitors to your website per month.
The goal with social media ads is that you get some sort of conversion. It may not be an online booking or a phone call but at least an email address. This takes us to our next junk removal marketing strategy…
6. Email Marketing Strategies
Building an email list is the single most valuable marketing asset you can own as a business owner.
Sounds strange, right?
Well, algorithms change, social media rules and regulations get updated, profiles get taken down, all without warning. You don't own your position in the search results or your Facebook and Instagram profile, but you own your email list.
As a junk removal company, the best thing you can do is keep your email list segmented. Segment it by service provided and by location – either town or county.
Junk removal isn't a consumable so unlike other businesses, most customers will only need you once every couple of years. However, you can still stay present in their inbox without being annoying.
If you're investing in SEO, you're likely generating some great content on related services like home organization. Share it with your email list when you publish a new content asset (not location or service page). It may spark an "oh yeah, I do need them to come back and clean out my basement!"
Another email marketing idea is to have a location-specific special. For example, suppose your email list is segmented by location. In that case, you can email everyone in a specific town and offer them 15% off any half truckload or more on one particular day. As a result, your trucks can maximize their appointment windows, and you save a ton of money on fuel and travel labor hours.
7. Create a Thumbtack Pro Account
Thumbtack is a PPL (Pay-Per-Lead) service. Unlike the Google Adwords PPC model, you only pay for a lead that includes their contact information with a PPL service.
Our junk removal clients have seen massive success with Thumbtack.
Thumbtack pays for their ads to be shown at the top of Google. Sometimes, they may even be competing with your ads.
This all sounds great; what's the catch?
Well, with most pay-per-lead services these, leads are going to multiple junk removal companies.
How to capitalize on Thumbtack leads
To maximize your conversion rate on Thumbtack, you need to reply fast. Have a templated response ready for as soon as a lead comes in and insert their name.
Ask the lead if they're available for a call now. If the lead doesn't reply, wait 5 minutes and send them a text message. Be specific about who you are, your company's name, and that they requested a quote from you on Thumbtack.
If If you don't get a reply with 15 minutes, try calling them. Then, follow up a few more times over the next 24 hours, and if you haven't gotten in touch, the lead is likely dead, and someone else scooped them up first.
Sometimes a lead is just a lousy lead, or the terms of the job changed after they requested a quote from you. Thumbtack allows you to dispute charges and sometimes refund you the amount you paid for that specific lead. Don't abuse this feature, though.
To get started with Thumbtack, head over to their website and click "Join as a pro".
8. Google Local Service Ads
In the last few months, Google has launched its own PPL platform called Google Local Service Ads. It works in a very similar way to Thumbtack. Create a profile, set a weekly budget, and accept leads.
It's still brand new, so I can't speak on the results yet. We are still testing this out for many of our clients, but it seems promising.
To create a Local Service account, you must submit proof of insurance and get a background check.
Junk removal leads in most areas seem to range from $20 – $35, but I can't provide any info on the detail quality yet.
I will update this section in the future so check back soon or subscribe to our email list.
9. Increase brand awareness with social media posting
If you're on a tight budget, organic social media posting is a good option. You can manage it yourself for free or hire a social media management company for an affordable price.
While organic reach is virtually dead on social media, creating and updating your social profiles is still essential. You should at least have Facebook, Instagram, and LinkedIn accounts.
Make sure the profiles match the name, address, phone number, and website on your Google My Business profile.
Post as regularly as you can. At least 2 times per week. Here are some post ideas:
Before and after images of a recent job
Pictures and short bios of your team
Your beautiful junk removal truck
Repurpose testimonials from your GMB profile
10. Non-Digital Junk Removal Marketing Strategies
We have pretty much exhausted the top junk removal marketing strategies available to you. However, there are still a few that don't involve the internet or much capital at all.
Make your truck into a mobile billboard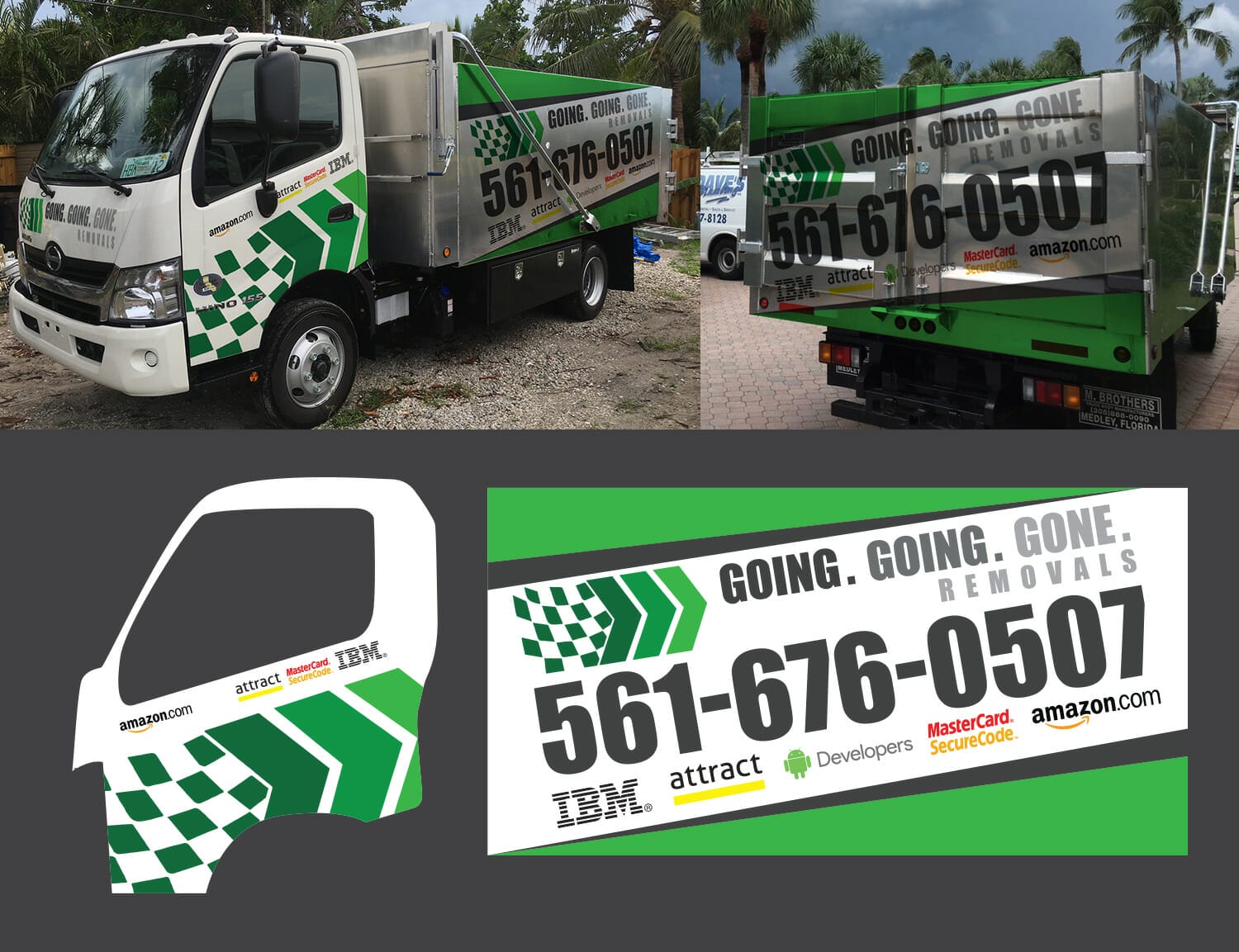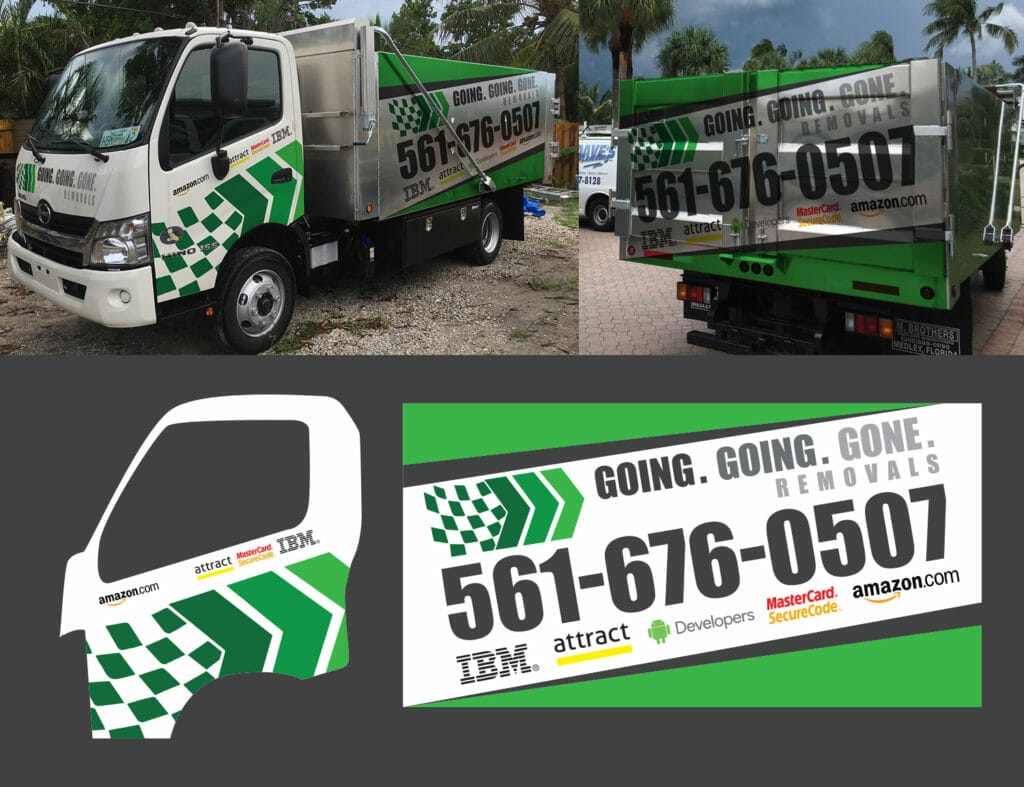 The goal is to have your truck on the road every day. So why not make it into a mobile billboard with a beautiful wrap?
Thousands of potential leads will see your truck on the road and either call right away or remember your name for a future job.
Pick a bright color that stands out. Make sure your name and phone number are large enough to read from across the road and at high speeds.
99designs.com and designcrowd.com are great resources to find graphic designers to design your wrap
Distribute Yard and Lawn Signs
While most people aren't going to pull over to write down your phone number from a lawn sign they saw driving down the road, yard signs are great for brand recognition. If your junk removal business is new, it's so important to get your name out there.
Everyone knows the name 1-800-GOT-JUNK because they have signs, commercials, and ads everywhere. So, it becomes hard to compete with that.
Try putting some lawn signs at busy intersections where drivers sit and wait at a traffic light. The odds are that most people who see the sign won't be in the market for junk removal, but this is a very cost-effective way to gain brand awareness and visibility.
Set up a postcard mailer
Mass mail still works. The conversion rate isn't as high as in the days before the internet. However, it's still a viable marketing tool to generate new leads.
If you're going to send out a mailer, including a very compelling offer for a special rate or predetermined discount percentage off a service. Otherwise, it's almost guaranteed the postcard will end up in the trash.
Conclusion – Where should you start?
You need a constant stream of qualified leads to keep your junk removal business operating and growing. So if you're just starting to market your junk removal business, start here:
Invest in a modern, mobile-responsive, and fast, professional website
Optimize your Google My Business profile and start generating as many reviews as possible
Fire up a Google Ads campaign. Start with a small budget until you know what you're doing and understand how the campaigns work.
Use our free website performance report tool to find SEO opportunities and implement them.
Sign up for Thumbtack and start generating leads
Elevated Audience helps junk removal companies across the United States generate more leads and grow their businesses. If you'd like to learn more about working with us, call (267)217-3155 or book a free strategy call online.